2011 Economy and the Apartment Industry – Apple Blossom Special for Winchester Apartments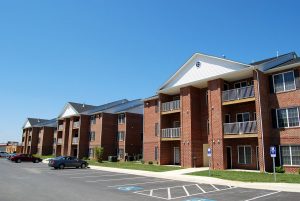 Even though the housing market is at an all time low going into its second major price drop dip, one is not seeing homeowners going out and grabbing up these great values. As a matter of fact, per NBC news, over one third of the new homeowners buying homes are paying cash. This is a comment to the interest rates now available for saving. For the other possible home buyers, they face strict credit guidelines and at least a twenty percent (20%) down payment. They also face possibly home prices going lower which scares them away from buying.
What does this mean for the Apartment – Town home industry? GROWTH…… Unlike many other industries including retail and commercial affected negatively, the apartment industry is seeing a demand for more units from luxury lifestyle complexes to town homes to affordable apartment housing.
The Aikens Group is expanding their apartment complexes down the Interstate 81 Corridor to both Strasburg and Woodstock , Virginia. They plan to break ground within the next month on a sixty-three (63) unit townhome complex in Woodstock first and then follow with a fifty-seven (57) townhome complex in Strasburg. They are also completing Stony Pointe Luxury Apartments one hundred and eight (108) unit complex in Martinsburg, West Virginia and have plans to build town homes in Inwood, Virginia as well. This will bring the number of apartment units to over five hundred (500) making the Aikens Group one of the largest apartment developers in the Shenandoah Valley region.
The Aikens Group presently offers luxury and economically affordable apartments for rent in Winchester and Stephens City, Virginia, and Martinsburg, West Virginia. With a diversity of price ranges, the Aikens Group can help you find the apartment rental that specifically meets your needs. Each of our present eight complexes are conveniently located in well established neighborhoods offering a mix of one, two, or three bedroom units with options of fireplaces, dens, and vaulted ceilings as well as some town homes with garages . Positioned near Interstate 81, or other major traffic arteries, the Aikens Group apartments and townhouses offer easy access to hospital, education, restaurants and shopping.
The Best Apartment Value for the month of April is Shawnee Terrace apartments. For just $625, you can have a two bedroom – one bath spacious apartment home. Call our Sales Office today for more information. Plus Half Off Security Special continues through April for all one year apartment – town home leases.