Aikens Group Assists EPTA with Bus Shelter Financing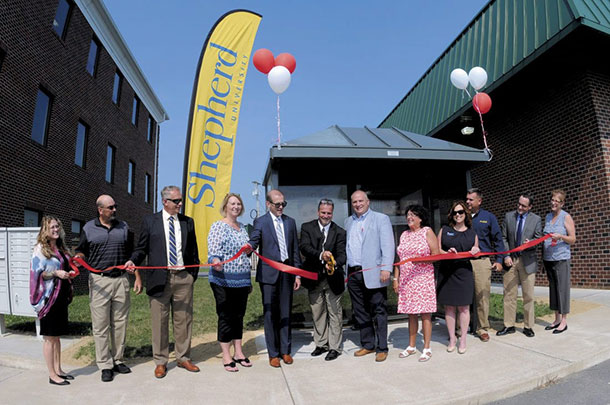 MARTINSBURG — The Eastern Panhandle Transit Authority (EPTA) launched its new shelter program during a ribbon cutting for its first shelter at Shepherd University's Martinsburg Center Thursday.
The shelter, just outside the Martinsburg Center's front door at 261 Aikens Center, was installed with help from Aikens Group, a Martinsburg real estate company.
Representatives from Shepherd, the Martinsburg-Berkeley County Chamber of Commerce, Berkeley County Council, Martinsburg City Council, Hagerstown/Eastern Panhandle Metropolitan Planning Organization and Berkeley County Development Authority were on hand to help cut the ribbon, including Tina Combs, president and CEO of the Martinsburg-Berkeley Chamber of Commerce.
According to Elaine Bartoldson, deputy director for EPTA, the organization has installed the first bus shelter next to the Shepherd University Martinsburg Center due to a high demand of ridership for that location.
"Partnering with the Shepherd University Martinsburg Center and the Aikens Group made the installation of the shelter a reality," Bartoldson said.
Bartoldson said the bus shelters provide protection from inclement weather and make bus stops more easily identifiable to customers. Offering bus shelters for riders helps improve the commuting experience.
"Ten years ago there was a grant that EPTA received where we acquired three shelters, but it has taken a long time to get this one up and running, " Bartoldson said.
"Our funding was very tight so when these two came together, they partnered together to pour the concrete pad for us so we were able to put that shelter up. Really without them, this wouldn't be possible."
Jim Klein, Shepherd University Martinsburg Center director, said he believes the partnership with EPTA and Aikens Group is strong.
"Today is yet another example of success for the community through public-private partnership," Klein said. "Although Shepherd University's Martinsburg Center was designed to serve the area's nontraditional students delivering Shepherd's outstanding academic instruction, we are committed ultimately to improving the quality of life in the community. The shelter may seem like an insignificant gesture, until someone is caught in the rain waiting for the bus with no umbrella. In that rainy moment, someone will be very happy a partnership was formed among Shepherd University, EPTA, and Aikens Group. I think Aikens group is an important part of the community in helping to drive economic development."
Doug Pixler, EPTA director, said this is the first of several shelters EPTA plans to install along its bus routes.
"We're excited about it and our ridership is excited about it," Pixler said. "The shelter will enhance public transportation, making it more accessible and safe."
Bartoldson agreed, stating EPTA has plans for three more shelters within the next year.
"We would love to put one at the Department of Health and Human Resources–it is a huge high traffic area in and out of that area. We also hope to put a shelter at Joshua Gardens apartments in Martinsburg in the next year. It sits behind Berkeley Plaza and there are several complexes back there, where we see a lot of ridership. We also have a lot of seniors that use our services, so we want to provide something reliable to them."
Bartoldson said that EPTA is going through a route revision and hopes to expand ridership south to Inwood.
"Right now we are going through a route revision and that will reflect on our site," Bartoldson said. "We are expanding services and we are going to increase our Saturday service as well. We are taking comments from the public at this time. "
Kristina Arntz, director of Aikens Group hotel sales and marketing, said she is excited on behalf of Aikens to help with this project.
"Aikens financed half of the project, so we are really excited and happy to do that," Arntz said.
"I can tell you that Aikens is really excited to have the opportunity to help get the shelter in place. James and I, we met in December about it and now here we are, seven months later and it is a reality so that is really exciting."
Michael Ferrari, vice president of the EPTA board of directors, said he is excited that EPTA has decided to expand the bus routes throughout Berkeley County.
"This is really exciting opportunity," Ferrari said. "I have been on the board five years and I know Berkeley County is a popular area. Right here in the plaza, you have Spokes, an adult learning center, Valley College, Shepherd University Martinsburg Center, the Telamon center for the homeless–they are all in this plaza, everything is so diversified. This is an important location to have a bus route."
Berkeley County councilman Dan Dulyea also said he is proud of the work EPTA and their partnership are doing at this time.
"I think these guys are doing a great job," Dulyea said. "It's great to see the transit authority working with Shepherd and Aikens — moving forward, putting shelters up, expanding routes, everything that they are doing is great. They are doing a great job overall."