Corporate Housing Solutions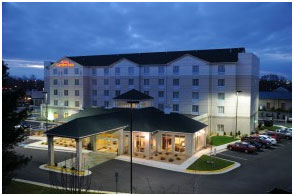 The Aikens Group's hotels and apartments have noticed the industry's trends and in response have expanded its housing solutions to include furnished corporate apartments. Depending on the lifestyle desired, guests can pick an extended stays in a hotel or corporate apartment rental. Some are choosing a combination of both.
Many guests prefer a hotel environment over a fully furnished apartment for the social interaction received with the hotel staff and other regular guests. They become an extended family during their stay. Each of the Aikens Group hotels offer microwave and refrigerators in every room as well as guest laundry facilities. This meets the demands of most travelers. Some properties like The Fairfield Inn and Suites by Marriott offer larger guest rooms that include a bedroom as well as a lounging area. The Hilton Garden Inn offers an intimate bar and restaurant in addition to its as large lobby for those guests that prefer to be in a more social environment.
Some travelers prefer not to enjoy the hotel lifestyle and take pleasure in a more permanent housing solution. This is provided by the Aikens Group's Furnished Corporate Apartments. Corporate Apartments are offered in Winchester and Stephens City, Virginia and the Martinsburg, West Virginia areas. All have easy access to Interstate 81. These apartments are fully furnished and offer all the comfort of home. "All guest needs to bring is their clothes. We handle the rest. Just like a hotel." said Jason Aikens, Vice President of the Aikens Group.
The Aikens Group's success with the extended stay programs in their hotels and furnished corporate apartments is the ability to tailor a housing solution to the unique needs each guest. Offering both short and long term solutions. The Aikens Group's sales staff is trained to customize packages for the clients. Often if the guests arrive early, they may start out at a hotel until their fully apartment is ready.
With the increase in temporary housing, the Aikens Group has expanded their corporate apartments units have eight hotels in the area.
Whether you are traveling with your business, the government, or simply relocation to our area, the Aikens Group welcomes you. Tell a business associate or friend who is in need of temporary housing that you have found an affordable solution. Email or call one of the Aikens Group Hotels for one of its sales staff to assist you in the best choice for your 'temporary' lifestyle.