"Go West Young Man" – Interstate 81 Corridor Sees Growth of Commerical Opportunities over the Mountain.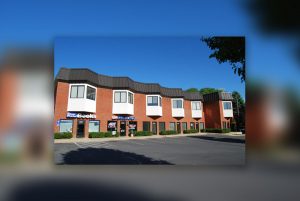 A new move is growing by leaps and bounds as more Northern Virginia businesses look at expanding or relocating their businesses across the mountain into Frederick County /Winchester and the Interstate 81 Corridor.
The Commercial Property Manager for The Aikens Group, has leased over six new spaces to clients who have moved from the Northern Virginia (Fairfax and Loudoun County) area to Winchester. "It is interesting that this is not just one industry moving here." says our manager. "We have doctors, dentists, web designers, research industries who have recently rented from us. For many it is the quality of life one experiences in our area that is the drawing card. Tired of commuting and losing hours just sitting in a car driving also makes our area very attractive. Plus the increase in gas prices has not hurt our cause."
Commercial prospects are surprised at the amenities offered in many of Aikens buildings. Unlike in the metropolitan area, many of these are considered standard out here. Ample parking is also a drawing card. But bottom line, "it is the rental fees are very competitive compared to the Northern Virginia rates."
The Aikens Group has over 150 offices, warehouses, retail free-standing, professional office buildings , and strip center spaces on the Interstate 81 Corridor in Virginia and West Virginia. A company with 80 years of experience in the Shenandoah Valley, Aikens Group also is a land developer and owns its own Construction and Crane Companies. They also operate eight Hotels including the Hilton Garden, Marriott Fairfield, and Hampton Inns and have over 250 Apartments from luxury to economical complexes.
Two popular properties available are Aikens Court and Dominion Square.
AIKENS COURT for the past ten years has been the home of a Telecommuting Center. A modern building, Aikens Court as of March 31st has available over 7,155 square feet of office space with a first floor entry, multiple private offices, large conference rooms, and great window visibility. The building also features fiber optic broadband and a magnetic key entry. It has insulated walls for excellent sound control and a private parking lot just for this section of the building. The building is located on Valley Avenue with easy access to Winchester's Bypass and Interstate 81, Routes, 50, 522, and Route 11.
Located on the east side of Winchester/Frederick County, DOMINION SQUARE is located on the busiest intersection (37,000 cars a day) in Winchester – Route 50 and 522 next to Costco. A Class A newly remodeled 3 –story professional office building, this building also has fiber optic access and the greatest views of the Winchester/Frederick County area. Fellow tenants include doctors, dentists, insurance agencies, government agencies and other professionals.
Call us today at 540-667-3752 (commercialre@aikensgroup.com) for more information about the commercial opportunities in the Shenandoah Valley. Just one hour from Leesburg and Fairfax, private jet service available — the new Corporate Development Corridor for the next decade.