Hampton Inn Winchester-North/Conference Center Completes Lobby Renovation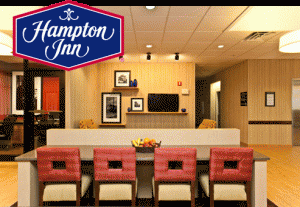 WINCHESTER, Va., March 4, 2013 – The Hampton Inn Winchester-North and Conference Center, an Aikens Group property, announced the completion of its newly renovated lobby space. The layout follows the hotelier's Perfect Mix Lobby design, featuring unique amenities to enhance the Hampton guest experience.
"The new lobby offers just the right balance of different seating options to meet a variety of needs," said Cindi Rampulla, GM of the Hampton Inn Winchester-North. "Friends and family can hang out at the large community table, while business travelers can find a quiet corner to check emails and return calls."
Designed by The Classic Touch, in Winchester VA, each zone of the lobby – the welcome desk, breakfast serving and dining areas – is intended to create an inviting space that ultimately becomes an extension of the guest room and promotes socialization.
A mix of comfort and utility seating styles are available to accommodate both business and leisure travelers. The community table with bar-height stools, for instance, offers space for groups to gather or for individuals to go to feel connected while traveling solo. Cozy lighting and contemporary original artwork complete the look, speaking to the spirit of the Hampton brand and the Winchester-area.
There are eight core design areas of the Hampton Inn Winchester- North's Perfect Mix Lobby, including: the front desk, coffee serving table, community table and pendant lighting, dining seating, soft seating, focal wall, breakfast serving area.
For further information or to make reservations at the Hampton Inn Winchester- North, please visit www.hampton-inn.com/hi/winchester-north.com or call 540-678-4000.
About Aikens Group
Based in Winchester VA, the Aikens Group is a premier development firm in the Blue Ridge Shenandoah Valley. The Aikens Group serves the Interstate 81 and Interstate 66 corridors from Martinsburg WV to Strasburg, VA. Services include commercial building, commercial leasing, land development, commercial real estate, crane rental services, hotel development, and residential rental properties. For more information on the Aikens Group visit www.AikensGroup.com.