Hilton Garden Inn Winchester Completes Renovations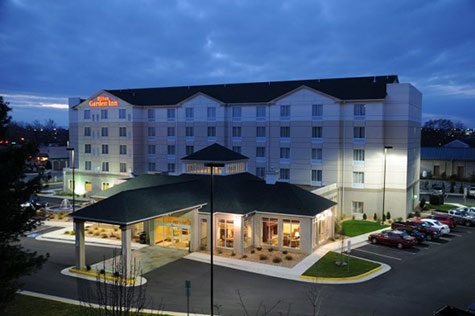 WINCHESTER, Virginia – March 13, 2014– Aikens Group today announced that it has completed the renovation of the Hilton Garden Inn Winchester located at 120 Wingate Drive in Winchester, Virginia.
The Hilton Garden Inn Winchester now features elements of Project Grow, a major brand revitalization initiative that includes upgrades to the property's communal spaces including the lobby and the guest reception area.
Tailored color schemes, seating arrangements, lobby bars, and updated floor and tile work are hallmarks of the Project Grow initiative, and Hilton Garden Inn Winchester has brought that philosophy to its hotel.
"We're thrilled to unveil the newly renovated Hilton Garden Inn Winchester," said Rick Ferree, general manager. "The property now includes the Garden Table with fresh beverages and snacks, a more relaxed lobby and dining area with live plants, candles, and pendant lighting, which will allow guests to take greater advantage of the hotel's public spaces and offerings whether traveling for business or pleasure."
Guests at the Hilton Garden Inn Winchester can start their day with a full cooked-to-order breakfast at the Garden Grille and Bar®, or end it in one of the brand's signature bedding featuring fresh, white duvets and crisp linens. Each hotel room includes an oversized desk with an ergonomic desk chair; 32-inch high definition television; and a "hospitality center" with a mini-fridge, microwave oven and Keurig coffee maker. Other hotel amenities include complimentary WiFi Internet access in guest rooms and public spaces; 24-hour business center featuring Print Spot™ remote printing which allows wireless printing from any laptop or smart phone; a state-of-the-art fitness center, as well an indoor swimming pool. The Garden Grille and Bar will also serve cocktails, dinner, and evening room service. The Pavilion Pantry® is open 24-hours and features a complete selection of snacks, fresh and frozen entrees, refreshing beverages, and any personal care items you may have forgotten to pack.
The hotel also features 4 meeting rooms, offering over 1800-square feet of flexible space and an on-site guest laundry facility.
For more information or to make reservations at Hilton Garden Inn Winchester, please visit the hotel website http://winchester.hgi.com or call (540) 722-8881. If you mention this article, you will receive 20% off the Best Available Rate during your first visit at the Hilton Garden Inn Winchester, as well as 20% off food and non-alcoholic beverages in the Garden Grille and Bar®.