Holiday Inn Express Winchester, VA South – Stephens City:Feature New Sign, Brand Standards, and Renovates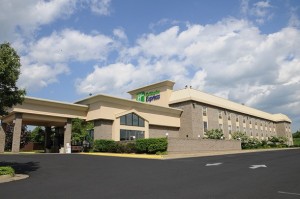 The new Holiday Inn sign introduced in 2007 is making its way around the world. And today, the Holiday Inn Express Winchester, Va South – Stephens City reveals this green and blue beacon of hospitality lighting the way for visitors to the Winchester, VA and Frederick County area.
The new sign is the seal of approval that this hotel exemplifies the standards of the $1 billion Holiday Inn brand family relaunch program established to create a more contemporary brand image, increase quality and drive consistency.
"With over 2,300 properties already relaunched, we are thrilled to include the Holiday Inn Express Winchester, Va South – Stephens City to the growing list of Holiday Inn Express hotels who now proudly display the brand new sign and everything it represents. Holiday Inn Express hotels are designed to be the smart choice for value-conscious business and leisure travelers, and this property will continue to serve travelers well within that offering," said Gina LaBarre, vice president, Brand Delivery, the Americas, IHG. "The addition of Holiday Inn Express Winchester, Va South – Stephens City will help us continue on our journey to make every Holiday Inn hotel as great as our best one."
Elements of the relaunch for Holiday Inn Express include:
Redesigned Brand Signage
An evolution of the iconic script logo, energizing the signature color green and eliminating the current shield shape for a more refreshed and contemporary look.
Warm Welcome
A new signature arrival – including new lighting, landscaping and design features – that creates an energized and branded sense of welcome that is universally recognizable. Customized music and scent selections also engage guests in a complete sensory experience, and a decluttered front desk to promote a more efficient and interactive check-in process.
New Service Promise
A best-in-class service culture – "Stay Real" – to further ensure the team develops the behaviors and skills to best serve guests so they feel like individuals and not numbers. Genuine people delivering real service. Leading the charge, will be a newly created position at each hotel – the Guest Experience Champion.
In addition to the relaunch the Holiday Inn Express Winchester, Va South is also undergoing an extensive renovation that includes new bedding, an updated exterior, additional breakfast offerings, updated interior design package including new furniture and bathroom design, upgraded hi speed internet, 32 inch LCD TVs, as well as microwaves and refrigerators in every room.
"We look forward to offering our guests an enhanced stay experience with exceptional levels of customer service. These upgrades will make the hotel the newest property in the Winchester/Frederick County market and I am proud to say I represent this establishment." said Robert Nicolletti, General Manger.
This 71-room hotel is within walking distance to various dining establishments with easy access to Interstate 81 and Route 522. Offering business conveniences such as wireless high-speed internet access, a business center and work space in every room. Other amenities include a seasonal pool, fitness center and a complimentary Express Start Breakfast.
The Holiday Inn Express Winchester, Va South – Stephens City, which is owned by the Aikens Group is located at 165 Town Run Lane, Stephens City, VA 22655. Telephone: (540) 869-0909