H&W Becomes Largest Crane Company in Northern Shenandoah Valley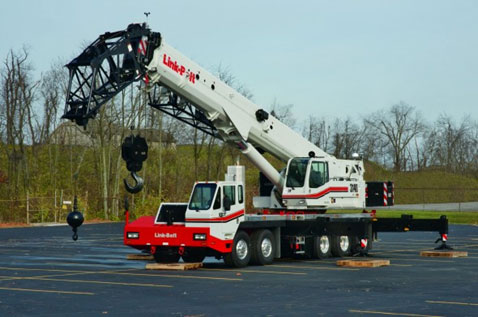 H&W Construction has purchased a 140 Ton Hydraulic Truck Crane expanding their fleet to six. With the purchase of the 140Ton, H&W Construction becomes the largest Crane Company in the northern Shenandoah Valley.
H&W Crane Rentals provides a wide range of customized crane rigging and lifting solutions for industrial and residential applications. Based in Winchester, Virginia, H&W utilizes its skilled manpower, specialized heavy lift equipment to achieve necessary goals of the customer while maintaining operations with limited interruptions. H&W's highly skilled supervisors and licensed operators perform all aspects of a project from consultation to execution. Offering the largest fleet of specialized equipment on the Interstate 81 Corridor, H&W is able to customize lifting solutions, as necessary to each individual customer's needs on a project-specific basis.
"As our area has grown, H&W continues to grow as well by adding a Linkbelt 140 to our crane fleet. When we purchased our first crane in 1986, we recognized the potential for expanding into crane rental business and have been fortunate to do so." said Walter Aikens. The Link Belt 140 provides a local solution to area industrial and commercial businesses. There now is no need to pay the additional transportation cost to bring this size crane into the area. With a 243′ boom and a max pick of 268,000 pounds, the Link Belt 140 addresses most industrial and commercial crane needs rounding out the H&W crane fleet. H&W is proud to have chosen to work with Link Belt, an 'American Made' product made in Lexington, Kentucky.
H&W is able to provide lifting solutions to each individual customer's needs on a project-specific basis.
Technical crane lifting from 32 tons to 140 tons
Highly skilled crane and rigging personnel
Consultation, review and planning, engineering, execution and evaluation
Comprehensive safety review and planning
Provides footprint and mapping of projects to determine load requirements, rigging , and risk analysis
This Link Belt 140 will take delivery in January and be in service in February 2012. H&W Crane Rentals is currently soliciting jobs for its new addition to its fleet.
At H&W Crane Rentals, we take pride in meeting our customer needs as efficiently as possible. We offer 24 hour service 7 days a week for the businesses and municipalities we partner with. Call Jason Miller, our Crane Rentals Superintendent at 540-667-3752 or email.