H&W Construction's NEW Pavement Maintenance Solutions!!!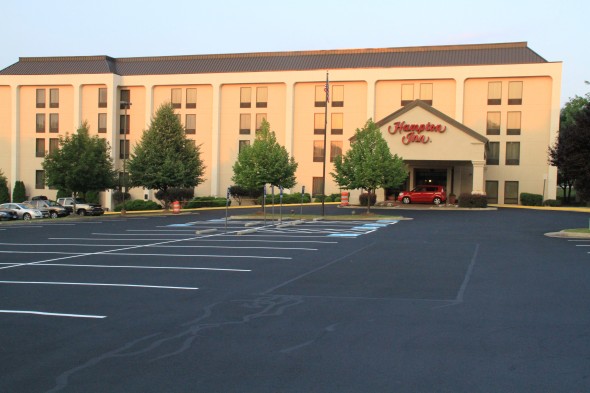 In today's economy cost savings and maintaining a professional image are even more important than what they were in the past. Tenants are harder to find and expecting more. As a developer the Aikens Group realizes this and understands these needs. To help maintain and give a fresh new look to our own property's H&W Construction has recently invested itself into the asphalt sealing business.
As a property management company one of the first things our customers see when they pull into one of our businesses is our parking lots – it is the "Welcome Mat" to your property. If you have old, visible cracks, weeds growing up, and holes from winter weather, you're not showing off your best. Let us help you change that.
H & W Construction can improve the appearance of your property and more than DOUBLE THE LIFE of your asphalt parking lots by implementing an effective " pavement maintenance program" which includes crack sealing and seal coating your asphalt parking lots. H&W Construction does this by using high powered hydraulics to spray high quality asphalt pavement sealer to protect and beautify asphalt pavement for commercial properties parking lots, shopping malls, airports, roadways, driveways, pothole repair and more.
By seal coating your pavement you are choosing to protect your lots from the torture of intense heat of the summer time, rain, snow, frost, and chemicals. Once the sealer is applied the benefits begin from slowing down the damaging effects of oxidation and the elements, greatly extending the service life of pavement while enhancing the appearance.
Along with all these benefits Seal coating is a terrific low cost alternative to asphalt resurfacing. Seal coating is 1/10th of the cost of overlaying your parking lot with a new layer of asphalt. Seal coating is generally reapplied every 4 to 5 years. If maintained, your asphalt can remain in very good condition for decades which adds up to huge savings. Seal coating will enhance the look of your properties as well giving them that new jet black finish.
Thinking green? Along with cost savings you are also helping out the environment. Asphalt products are the #1 recycled product in America exceeding that of paper, plastic and steel. This is a tremendous benefit to our environment, up to 25% of the reclaimed or "milled" asphalt is incorporated back into new "hot mix". This byproduct is used in the clay-stabilized coal tar emulsion along with sand to provide a fortified slip resistant surface.
Welcome your customers with a new look that shows you are a growing prospering business.
Let the H & W Group's well trained and always professional staff provide you with information and pricing to more than double the life of your asphalt today! Let us help you seal the deal with our SealMaster product and equipment.
For other residential or commercial needs please review a full line of our services at hwconstructionco.com or call 540-667-3752. Ask for Jason Miller.