New Hilton Garden Inn for Martinsburg West Virginia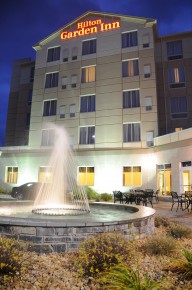 The Aikens Group announced today it has signed a development agreement to build a 111-room Hilton Garden Inn in Martinsburg WV with over 4000 square feet of conference and banquet space.
Jason Aikens said, "We are excited to have successfully partnered with the Hilton Corporation once again. The Hilton Garden Inn in Martinsburg will be the Aikens Groups' fifth (5th) Hilton property along the interstate 81 and 66 corridors. We have established a strong relationship over the past 14 years with Hilton and hope to continue to develop more properties in the future."
The Hilton Garden Inn will be located adjacent to The Commons Retail complex on Route 9, and is set to break ground in July of 2013. It will feature 111 well-appointed guest rooms and over 4,000 square feet of meeting and banquet space. The Martinsburg property will be one of the first Hilton Garden Inn's to feature the new Project Grow lobby and building design. The ballroom will be capable of accommodating over 250 attendees making the Hilton Garden Inn the largest hotel conference facilities in Martinsburg and Berkley County, WV. The hotel will be conveniently located near Best Buy, Dicks Sporting Goods, Target, and Logan's Steak house. The hotel is anticipated to open in 2014.
The hotel is being built by H&W Construction Company located in Winchester VA. H&W Construction is a sister company to the Aikens Group which has constructed each of the hotels, apartment communities, and commercial real estate the Aikens Group owns and manages. To learn more about H&W Construction visit http://www.hwconstructioncompany.com
The addition of the Hilton Garden Inn in Martinsburg, WV enlarges the Aikens Group hotel portfolio to eight (8) properties. The Aikens Group owns and manages the Comfort Inn in Martinsburg, the Hampton Inn in Inwood, WV, the Hilton Garden Inn in Winchester, VA, the Hampton Inn and Conference Center in Winchester, VA, the Fairfield Inn and Suites in Winchester, VA, the Holiday Inn Express in Stephens City, VA and the Hampton Inn in Front Royal, VA. To learn more about the Aikens Group visit www.AikensGroup.com.