Renovation of Marriott Fairfield Inn & Suites Generates Jobs for Community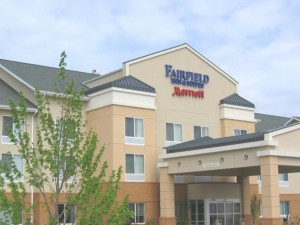 Winchester, VA: The Fairfield Inn & Suites by Marriott, Winchester, an 85 guest room (22 executive suites) hotel, is unveiling to the public its smart, inventive public space and guest room design. With a new natural design the renovation took over three months and cost in excess of $1 million.
"We are excited to be able to put a fresh look and feel to our awarding winning hotel on Rt.522," said Jason Aikens, Vice President of the Aikens Group, "In addition, the investment of over $1 million also created over 20 much needed jobs for our community," he continued. With seven area hotels, the Aikens Group is leading the way with modernized hotels for Winchester's growing corporate and leisure travelers.
Carolyn Brown, Manager for the Hotel, stated that in addition to new wall and floor coverings that offer a vibrate and modern look, the hotel has created Winchester's signature "smart" room décor that features a well-designed work area with an ergonomic chair, energy saving fridge, microwave and task lighting, along with additional electrical outlets where guests need them for today's mobile devices. The new look for the property which features high design and décor also extends to an expanded Hot Deluxe Breakfast, a 24/7 Corner Market with snacks and drinks as well as the latest in fitness equipment. "Our guests love the new look and feel," said Brown, "in fact, the energy level at our Hotel is exciting," she stated.
Founded in 1931, the Aikens Group has served its community and expanded its services to include commercial building, commercial leasing, land development, commercial real estate, crane rental services, hotel development, and residential rental properties. To learn more, visit www.AikensGroup.com.