The Aikens Group Launches New Website and Community Network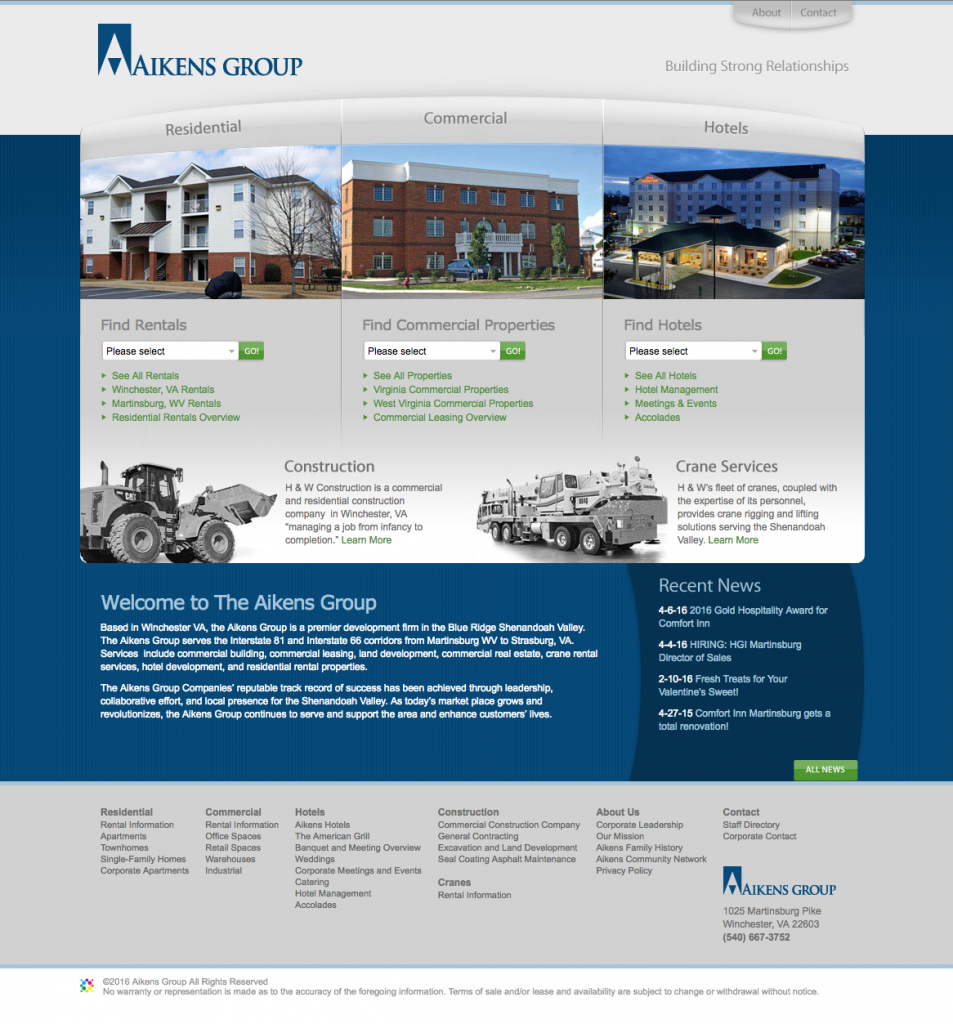 WINCHESTER FREDERICK COUNTY, VA – The Aikens Group over the 79 years of doing business in the Shenandoah Valley has faced the very best of times as well as the difficult financial times. How have they survived?
"The Best of Times can give you a false sense of security and confidence," says Walter Aikens, President and CEO of Aikens Group. "It is diversification. By having more than one business focus, when one is suffering, another hopefully is stronger. This past down turn has been difficult due to the limitations put on financing projects. The second key to survival is hard work. You just keep pushing. Honesty has been the key to our success. In our opinion, we tell the customer the facts even if it means we lose the job."
The biggest challenge the Aikens Group has faced over recent years is their expansion of new divisions of business. Starting as a construction company and growing to include five diverse business divisions has created a need to redefine their "Identity".
Aikens Group is making new aggressive changes to their networking with the community and outside the community. The first step of their community involvement starts at home first with their employees, tenants, and business partners. Aikens Group Community Network is a network whose purpose is to provide marketing opportunities to people they do business with in order for everyone to succeed. These opportunities include:
Aikens Friends and Family Rate offering discounts to local hotels to its employees apartment tenants and select business partners for discounted room accommodations.
Aikens Group Discount Card offering discounts from their apartment tenants and commercial lessees businesses to anyone who is a partner with Aikens Group.
Apartment Welcome Baskets are given to anyone who visits our apartment complexes. These baskets include incentives, promotions from our Aikens Group business partners and many others. Once an apartment lease is signed the new tenants will then qualify to receive an Aikens Group Discount Card. This card is good for one year.
Aikens E Newsletters are available to tenants and lessees to highlight their business and permit them to offer a promotion or coupon.
All four of these avenues offer free marketing opportunities to Aikens Group Family of Businesses. Not only do the employees, tenants, and lessees get to take advantage of these discounts, our hotel managers and front desk staff are educated about who our partners are to refer business.
"The reaction to this new networking within our own community has been excellent," says Nancy Craun, Marketing Director. "We actually have more of our tenants wanting to participate than we have room for on the card. It is amazing how many "thank you" we have received from our commercial tenants."
The second big step has been to launch their first web site – www.AikensGroup.com .
Walter Aikens says "You have to stay on top of your communication goals. It is a different world from when my father, Harry Aikens, founded the company. The northern Shenandoah Valley is a transient community with national companies arriving in our area. Today's key tool to communication is the web." We have over 400 apartments/townhomes in Winchester and Martinsburg renting them to people from all over the world. We own eight hotel franchises of national hotel chains including Hilton, Marriot, and Choice, and the Holiday Inn. We offer excellent catering from the American Grill at both the Hilton Garden Winchester and the Hampton Inn and Conference Center Berryville Avenue Winchester. We rent to over 165 retail and commercial businesses from national chains like Burger King, Firestone, Protel AT& T, Dollar General, and Payless Shoes to small local business owners. "It is all about identity. The website is the best marketing tool allowing people to find us" says Walter Aikens. "We want to be found and the way to do this in today's market is to have a strong presence on the internet."
In June, the Aikens Group launched their first web site – www.AikensGroup.com . Jason Aikens, Vice President of Aikens Group says, "In this difficult economy, we have changed our direction to be more focused on the different market segments we serve and have aggressively worked to expand business relationships with new and existing partners. This economy has forced us to focus on new ways to communicate with our customers. For my generation the web is the 'yellow pages' where everyone can do research, communicate/ network through social media avenues, and stay in touch with what is happening within the communities we serve. Our goal is to build strong relationships with business partners so we both can be successful in the businesses we operate."
William Aikens, Vice President of H & W Construction and H & W Crane Service Rentals, says "the web offers our clients a way to pre-qualify our companies. The information flow is more linear, resulting in quicker interaction with our client. The web is also not as intrusive to our clients. Many of the companies coming to Winchester are from markets we normally could not reach. With the growth of the Winchester/Frederick County area, our future client may not live here. The scopes of the work we specialize in at H & W Construction are outlined on the web. The client quickly knows if we are the right fit. The web also offers us the opportunity to be more efficient in bidding the job and, interacting with sub-contractors. In today's economy, it is all about speed in the construction world. Get the job, provide the means to communicate quickly, and complete the job, and move on to the next job."
The Aikens Group is a team of professionals looking to grow their company for another 79 years. Go to www.AikensGroup.com is learn more.