"Winchester's Hidden Culinary Secret"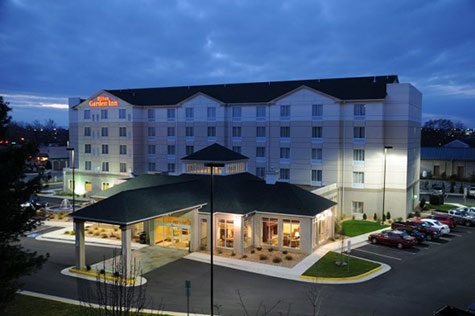 Usually when one thinks of eating at a restaurant located at a hotel, one does not think that you will experience an outstanding culinary experience. This is one of many reasons that Winchester's Hilton Garden Inn is popular not only to its returning guests but also to the locals. The Great American Grill is quite a culinary surprise.
The Hilton Garden Inn is proud to have Executive Chef Marco Pantano. Last Friday, I had the pleasure of interviewing Chef Marco (Gabby). What surprised me the most was his repetitive use of the words "Simpler is Better". Chef Marco's culinary background is extensive with training from many renowned chefs from Manhattan, Washington DC and Palm Beach, Florida. Plus, one cannot ignore his French and Italian family background. That is why perhaps his food has so many unique flavors. Chef Marco says, "The more friendly or familiar the food is to the consumer, the more they enjoy it. Customers like to know what they are eating and possibly have prepared it themselves. They can then truly evaluate how great your food really is."
Chef Marco truly practices what he believes is the difference between OK food and great food. "Everything is fresh – from cutting the steaks to preparing the menu items from scratch. I do not cut corners," said Marco. "It does not matter if I am cooking Fish and Chips or Surf and Turf – it is fresh.

Today's customer wants healthy freshly prepared food. A variety of our menu choices can be gluten free upon request and over half of the menu already is gluten free. We can take care of other food allergy issues as well. The Hilton Garden Inn has a direct phone line to the kitchen for our customers with questions."
The menu at the American Grill features a wide array of great selections. Coming soon, The American Grill will offer a specialty selection each evening Monday thru Saturday.
The Hilton Garden Inn is proud to have Executive Chef Marco Pantano but he is only one of the secrets. The other is the service you will receive from the hotel wait and management staff. The Hilton Garden Inn nationally has rated Winchester's American Grill in the top 10% in food quality and service.
From plated meals to beautiful buffets for our wedding and corporate clients, The American Grill is receiving rave reviews. "The American Grill is a great place if you want good conversation and great food in a quiet atmosphere. I enjoy having dinner with our guest speakers for the OSSN Regional meetings each month." says Mary June Williams, OSSN Chapter Director. OSSN (Outside Sales Support Network) is a Florida based association supporting home-based travel agents. Our speakers are in the travel business and come from all over the United States. They have been so pleasantly surprised with the quality and diversity of the food here at The American Grill."
If you are tired and bored with eating out and want a new experience – it is The American Grill. Every Friday and Saturday night is Steak Night – enjoy a 12 oz NY Strip for $15.95 and a 6 oz Filet Mignon for $18.95 cooked to your taste. . Contact 540-722-8881