More than one price point – Great Value for Brides and their Guests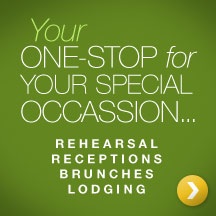 One of the hardest steps brides and grooms have to work thru when planning their wedding is offering accommodations to their guests that will meet everyone's price line and desires. The Aikens Group Hotels make this easy. With over seven locations on the Interstate 81 or Interstate 66 Corridors, the Aikens Group provide preferred brands at different price points. These brands include HILTON, IHG, MARRIOTT, AND CHOICE.
Kristina Arntz, Director of Sales – Virginia, says, "There is a great benefit to the brides and grooms who are blocking rooms for their guests. Hotels can really not block more than 50 rooms to any one person. They also really prefer to limit this to 25 rooms initially. By going with the Aikens Group, you have one sales contact who will be able to block rooms in several hotels. You can select hotels with different price points so your wedding guests will have options. The end result is your busy life just became easier."
"We have also found that the Interstate 81 Corridor is a great mid-way point for many families which is why the brides and grooms have selected Winchester as a central point for their weddings."
No matter what the price is, the Aikens Group Hotels all have refrigerators, microwaves, fitness centers, swimming pools, and options for Breakfast. Plus many have event party rooms should you want to also book your rehearsal dinners, receptions, and brunch the day after your wedding.
There is no cost to set up a hotel room block, You can do as many as 25 rooms per block. The rooms will be held in your name up until twenty one days prior to your wedding day. Kristina's advice is for brides to block the rooms six to eight months prior to their weddings. You can let your sales contact know earlier but most hotel brands do not allow the rooms to actually be blocked prior to this time.
For Virginia Guests -you have four hotels to select from –
Hilton Garden Inn is the newest Aikens Group hotel. Offering 102 rooms with amenities and services unique to the Hilton Garden chain, these hotels known for being small full service hotels with a restaurant and bar service. The American Grill in Winchester is recognized for its outstanding food. As the caterer for the hotel, brides and grooms often have their rehearsal dinners and brunches at the Hilton Garden. The banquet room is wonderful for eighty guests which also makes it perfect for a small wedding. Again, easy to get to off of I-81 at Route 50.
The Hampton Inn and Conference Center is located on Berryville Avenue the Route 7 I-81 exit. Not only are the 100 rooms wonderful with a hot breakfast included but the Hampton has a beautiful ballroom accommodating 250 guests as well as smaller rooms for more intimate events.
The Fairfield Inn and Suites is a Marriott property offering 85 rooms. Many guests enjoy a Fairfield because it offers suites which have 25% MORE space than a typical hotel room.
The Holiday Inn Express is just down two exits on Interstate 81 South from the Hilton Garden. Newly refurbished, this hotel offers 71 rooms and is a great price point for many guests.
The Hampton Inn Front Royal is great for guests traveling Interstate 66. This is the first large hotel after leaving the Manassas – Centerville area and traveling thru wine country on Interstate 66. With 102 rooms, this hotel was also recently remodeled. It features an event room with seating for 72 for dinner.
For West Virginia guests – the Aikens Group features two hotels.
The Hampton Inn Inwood offers easy access off of Interstate 81 to your northern visiting tourists. With 65 rooms, this is ideally positioned to explore the West Virginia Eastern Panhandle as well as the Shenandoah Valley.
The Comfort Inn is located in Martinsburg just off of Interstate 81. Similar to the Hampton Inn Conference Center in Winchester, this hotel offers 109 rooms as well as a ballroom for weddings up to 225 guests. The convenience of having the event and sleeping rooms in the same complex appeals to many brides and grooms. There are also four other event party rooms available at this location perfect for groups from 24 to 72.
Contact the Kristina for more room block information or visit them at the Winter Blue Ridge Bridal Show at Millwood Station. Don't forget the VIP Brunch Event prior to the show at the Hilton Garden. Reservations are required.